You are here
Alumni Update: Opportunities Abound in Alaska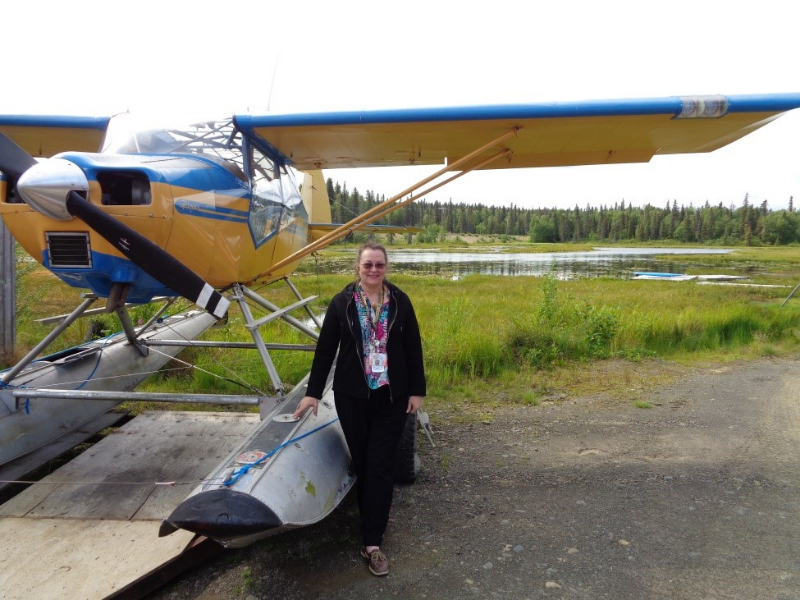 The social work profession provides a variety of opportunities for individuals who are passionate about the social sciences. Tulane University School of Social Work alumna and Acting President of TSSW's Alumni Association, Amy L. Sandridge, PhD, LCSW, is using her commitment, knowledge, and skills to experience the world and support the health and well-being of individuals, families, and communities everywhere she goes. 
From Epidemiology to Social Work
Prior to coming to social work, Dr. Sandridge enjoyed a 20-year career as an epidemiologist, with a PhD from the London School of Hygiene and Tropical Medicine. "I've worked in Riyadh, Saudi Arabia, Doha, Qatar, Edinburgh, UK, the Navajo Reservation, and the American University of Armenia in Yerevan, so I'm used to living in unusual, remote places," Dr. Sandridge said.
Dr. Sandridge wants to contribute to improving the quality of social science research, and one of her specific areas of interest has been consanguinity, which is marriage of individuals who share an ancestor or specifically individuals who are second cousins or closer. "I studied whether or not consanguinity increased birth defects, specifically congenital heart defects, in the Saudi Arabian population," Dr. Sandridge said. "There was a great deal of criticism of the practice of consanguinity but not much hard data regarding its harms. Because the practice is indigenously-approved, and I believe strongly that individuals do what is best for their own health care, I posited that if it was harmful to marry cousins, as was the case of approximately 25% of the marriages in the Arabian Gulf, and that if it were dangerous to offspring that it would be a practice that would die away naturally."
Realizing that having a clinical degree would give her more opportunities to perform research in social science areas, Dr. Sandridge pursued her Master of Social Work at TSSW. She worked as a social worker at nonprofit organizations in New Orleans, and she loves research and direct practice. "My ideal position would be Director of Research at a School of Social Work. That, or private practice, or both," she said.
Adventures in Alaska
Her recent experience in working within addiction and its treatment has taken her to another spot on the globe - Alaska. "I had been interested in taking a sabbatical to write a book, but I had always had an interest in working in Alaska," Dr. Sandridge said. "I wasn't willing to leave my husband, dog, and house for 12 to 15 months whereas I could see going to Alaska for 6 months and possibly returning annually for 4 to 6 month stints."
In January, an email about an opportunity dropped into her inbox. Dr. Sandridge considered that first opportunity, which was a 12 to 15 month position as a program manager at a short-term residential facility in Ketchikan. Then, a second position came up in March for Kotzebue for six to nine months; however, that one went to someone with a clinical license in Alaska. "I took my Louisiana LCSW exam in early March. As soon as that came through, I began the process of obtaining an Alaskan license," Dr. Sandridge said. "I got all the parts in by May 15 and was put on the Alaskan Board of Social Workers schedule for June 15. They approved my LCSW license on June 29, and I flew out to my new position on July 7."
Dr. Sandridge is currently working at Kanakanak Hospital in Dillingham as a clinical social worker. "I'm here from July 9 until January 3," she said. "I like it so much I plan to come back in the Spring of 2022." 
Alaska is in need of qualified social workers, and the assignments can vary. Temporary employees like Dr. Sandridge receive an untaxed per diem. Housing with utilities are paid for by the agency, and some placements, like Dillingham currently, allow workers to bring a partner and/or child and a pet. The agency would also provide roundtrip airfare to the assignment. 
Many benefits, like healthcare, holidays, sick time, or vacation time, are not included, but the working hours are 40 hours a week, 8 am to 5 pm with an on-call once every month for seven days. Some places would pay for holding the on-call phone, and some do not. Clinicians who are called into the Emergency Room would receive overtime pay. "Several facilities in Alaska pay very well, and temporary agencies, for the most part, hire the staff," Dr. Sandridge said. "My commitment in Dillingham is six months, but I've heard of some commitments for three months and then there are others that are nine months to 15 months to 24 months."
Getting to Dillingham takes two days because of the infrequency of flights. It is off-road, so only accessible by air or barge. "Rural Alaska is very exciting to me. It's extremely remote, but the environment is gorgeous," said Dr. Sandridge. "When I realized I was 5.7 miles from town without reliable transportation, I purchased a 2004 pickup truck. I had it sent in by barge from Naknek, a small town across the bay from Dillingham. It makes driving out to Lake Aleknagik much easier on a Saturday to visit the Wood River Market."
With her vehicle, Dr. Sandridge sees Dillingham as her oyster with so much to do. "Right now, there is berry picking and salmon fishing. In the winter, there is hunting," she said. "The weather is fabulous right now although I do hear it gets worse, and dark, in the winter months, but I'll cope." 
Dr. Sandridge supports her own well-being in a number of ways, and a big part of that is flying single engine planes. "I earned my private pilot's license in 1981 and am taking advantage of the summer to fly," she said. "It's a lot more difficult to fly here though. There are the mountains, the fact that we're not at sea level, and that it's easier to get lost. Flying out of Lakefront Airport in New Orleans, we have a river and a lake, so it's almost impossible to get lost, whereas here all these lakes look the same to me. If there were an emergency, landing on a dirt road is much harder than landing on I-10. This is going to be a long-range project to qualify safely in Alaska."
When not flying or working, Dr. Sandridge is busy doing what she enjoys as a form of self-care. "I'm writing a lot as I hope to write a novel after I finish my book on addiction," she said. "I speak to my husband daily on Skype and my two daughters and ex-husband weekly. I write letters, and I read novels from the Dillingham library." 
Dr. Sandridge has also adapted to preserve her spirituality. "Because there is no Episcopalian service and the Lutherans were closed for COVID-19, I ended up joining in with the Latter Day Saints," she said. "They are very welcoming."  
The people of Dillingham are friendly, and Dr. Sandridge is making personal connections. "I've met a wonderful local woman who also spent time in Qatar, and she has me out to her lake cabin every week for supper," Dr. Sandridge said. "I'm trying to get a Toastmasters Club started and a Games Night with my new friend, a chiropractor from Arizona who moved here right before Covid."
Dr. Sandridge has also discovered plenty of businesses to patronize. "There are four grocery stores plus ACE Hardware," she said. "In the spring/summer, there is a Subway and the Wood River Market stays open until October. The Sea Inn not only has two pool tables, but the best Philly Cheesesteak I've had outside of Pennsylvania. The library is well-stocked and will bring everything you want by interlibrary loan." 
Dillingham has a small museum of the area, a branch of University of Alaska Fairbanks, a K-12 school, and nine different church congregations. "There's too much to do if you have a good attitude," Dr. Sandridge said.
Serving as a Social Worker
Most importantly, the need for social workers is huge. While Alaska has a population of 700,000, the number of social workers is inadequate for the cases of intergenerational trauma, suicidal ideation, attempts, and completions, substance abuse, generalized anxiety disorder, and depression. 
Dr. Sandridge's clients are primarily indigenous Native Alaskans. Usually, 25 to 50 percent of their ethnicity is Alaskan Native, and most in Dillingham identify as Yu'pik. "Overtime, the boarding schools, cultural oppression and colonialization have separated these communities from their languages and traditional customs," Dr. Sandridge said, "There is an effort to revive those traditions."
As with a variety of settings, social workers are called upon to make diagnoses and assessments to determine if clients need to move to a higher level of care for behavioral/emotional risk which would likely be a facility in Anchorage. "Social work is an extremely demanding field," Dr. Sandridge said. "There are many who don't do it very well, and you will feel frustrated with that. Many social workers will over diagnose PTSD or ODD when it is more likely that the client has depression or, with children, anxiety."
Dr. Sandridge recommends that social workers surround themselves with professionals and continue aiming higher and higher. "Ours is a profession which is sadly underrated, but only we can change that impression," she said. "We change it by being at the top of our game. We read all the literature. We focus on changing the world one seed at a time and we learn to be the survivor/surThriver and not the victim."
Alaska has a shortage of social workers, and rural Alaska needs social workers even more. This presents an opportunity for those wishing to explore and connect with a variety of populations, and Dr. Sandridge is paving the way for more Tulane graduates and social workers to follow. "Alaska needs dedicated, seasoned social workers who are willing to advocate for the needs of their patients," said Dr. Sandridge. "When I think of the 12 to 16 clients I would care for per week at Odyssey House in detox or my work at Canon Hospice, or the misery I saw at Responsibility House, I can only look around this lovely, lovely building filled with plants and inspirational wall hangings and thank the Raven that I took the risk and came here."
Those interested in going to Alaska for the work, the adventure, the money, and the contribution possible, contact Dr. Sandridge at asandridge@epiconsults.org for more information. While licensure would be required, each facility, each contract will determine whether LMSWs as well as LCSWs can be hired and if the Alaskan license is required prior to commencing a contract. 
Please note that the views expressed by Dr. Sandridge are hers alone and do not represent the views of Bristol Bay Area Health Corporation (BBAHC).
 
Photos by Dr. Amy L. Sandridge, LCSW by camoulder