You are here
TSSW Adds Clinical Assistant Professors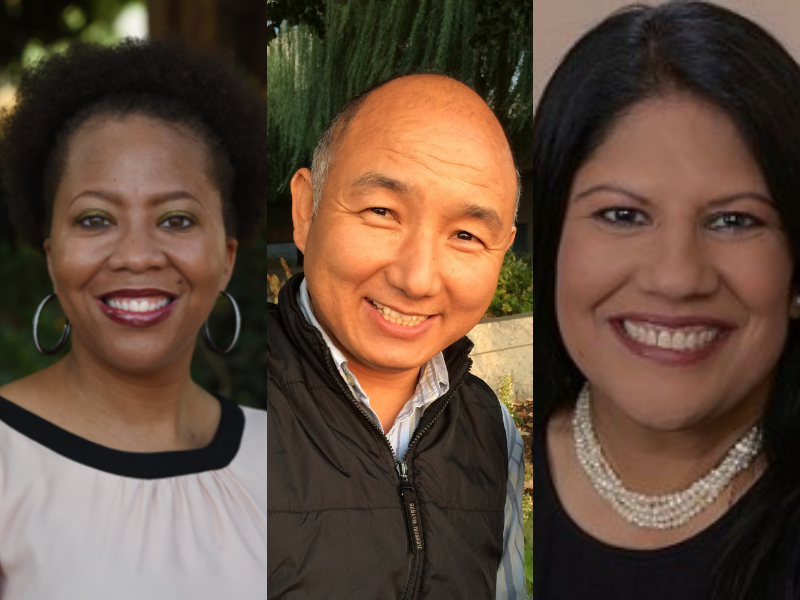 The Tulane University School of Social Work has a wonderful group of Clinical Assistant Professors as part of our full-time faculty. They leverage their social work practice experience to support learning and administration, and we are pleased to add three individuals to this valuable group. All of them have been adjunct instructors for several years, and they bring a wealth of knowledge, expertise, and teaching experience to our program.
---
Tiffanie Jones, PhD, LMSW
Dr. Jones is a New Orleans native, who earned a Bachelor of Arts degree in Mass Communication from Dillard University in her hometown, an MSW degree from the University of Missouri at Columbia, and a PhD degree in social work from Howard University in Washington, DC. Dr. Jones has taught at the BSW, MSW, and PhD levels, predominantly in the Master's program in the research sequence. She specializes and has extensive training in research methodology. Specifically, her skill set lies most heavily in research design (quantitative, qualitative, and mixed methods design) and data analysis (multivariate and advanced statistics). Dr. Jones has experience with NVIVO conducting qualitative analysis and even greater proficiency with SPSS for quantitative analysis.
Beyond her training, Dr. Jones served as the methodologist and advisor for several Master's theses and doctoral dissertations. Moreover, she has taught over 20 research-related courses, which primarily include research methods and bivariate and multivariate statistics. She has also served in a research role within 13 capacities at various universities.
Dr. Jones' research agenda centers primarily on mental health in special and vulnerable populations, for which she has a few scholarly publications. Her scholarship currently focuses on black male-law enforcement lethal interactions. She has also conducted research on high collision athletes, who, by nature of frequent head contact within their sports, are at high risk of developing early-onset dementia and chronic traumatic encephalopathy (CTE), a severe brain disorder that develops from multiple traumatic head injuries, namely concussions. This risk further places them in the aging population much sooner than their non-athletic peers. She is most interested in developing interventions that improve the psychosocial functioning of athletes who are experiencing some form of cognitive decline or dementia. She also plans to expand her research to similar populations.
Lastly, Dr. Jones' research interest also includes innovative teaching techniques to increase higher-order thinking skills and student engagement. Dr. Jones' main purpose in her teaching is to develop in her students the ability to be GREAT THINKERS.
---
Ngawang Legshe, DSW, LCSW-BACS
Dr. Legshe is an educator, psychotherapist, and clinical supervisor. He was ordained by H.H. the Dalai Lama, was a Tibetan Buddhist monk for more than 20 years, and was a Kahn Buddhist fellow at Smith College. He has developed and taught cross cultural courses on social welfare, social movement, and mindfulness at Tulane University since 2005. He was the Louisiana ACT Director for RHD. He offers evidence-based multi-faceted treatment modalities to improve and optimize psycho emotional and mind-body balance. Compassion focused therapy, psycho-dynamic psychotherapy, T.E.A.M cognitive therapy, dialectical behavioral therapy methods are used to decrease symptoms and improve quality of life for adolescents, couples, families and groups. He has conducted wellness workshops and retreats using Buddhist psychology and psychoanalysis. His research interests are program evaluation, evidence-based practice, chronic mental illness, addiction, complex trauma, dual diagnosis, death and dying, mind body practices with evidence-based clinical interventions, social movement, community-based NGOs, and innovative programs for vulnerable populations.
---
Kathy Oquelí McGraw, PhD, MPH, LCSW, LAC, LPP
Dr. McGraw is the President and CEO of McGraw and Associates, LLC, a mental health, forensic, life coaching, substance abuse, crisis intervention, and alternative dispute resolution (ADR) firm. Dr. McGraw works with children and their families through three programs in the Metropolitan New Orleans, the Bayou Region, and the River Region areas. The three programs are the Collaborative ADR Institute of Louisiana, the Employee Assistance Behavioral Health Institute, and the Institute for Families, Parenting, and Children. She has a PhD and a Master of Social Work (MSW) from Tulane's School of Social Work. She has a Master of Public Health (MPH) in Maternal and Child Health and Community Health Sciences from Tulane's School of Public Health and Tropical Medicine. She is a Licensed Clinical Social Worker (LCSW), a Licensed Addiction Counselor (LAC), and a Licensed Prevention Professional (LPP).
Dr. McGraw is certified in military / post-combat behavioral health and specializes with deployment and reintegration issues. She is a qualified juvenile, delinquency, family, and custody mediator trained by Loyola Law School's Mediation Program. She has provided mediation services through numerous programs, including the Louisiana Supreme Court's Children Advocacy Mediation Project. She is a qualified child custody evaluator and parenting coordinator (PC). She was appointed by the Louisiana Supreme Court to the Louisiana State Law Institute's Parenting Coordination Committee, and co-wrote the Louisiana statutes for parenting coordination. She was also on the committees, which revised the mediation statutes for domestic and family mediation (L.R.S. 9:334) and juvenile and delinquency mediation (Children Code 439) in Louisiana. She is trained in the collaborative divorce model and has provided services as a child specialist and a coach. She has been honored to be listed in the Louisiana State Bar Association's Journal titled, "Who's Who in ADR" numerous times including the years of 2011, 2012, 2013, 2014, 2015, and 2016.
Dr. McGraw has facilitated workshops focused on the trauma recovery process for adults, children, and communities after a disaster. She has worked extensively with families, school teachers and counselors, first responders, and community organizers in the areas of conflict and dispute resolution, anger management, relationships, and communication skills needed after life traumas. She has also facilitated several city-wide meetings in New Orleans organized by AmericaSpeaks and the United New Orleans Plan (UNOP) to aid in the recovery and rebuilding of New Orleans and the surrounding communities after hurricanes and flooding events.
Dr. McGraw wrote and contributed chapters to 2 books, "A Guide to Getting Vibrant and Lasting Relationships" and "101 Great Ways to Improve Your Life, Volume 2."
---
Please join us in welcoming our new colleagues.