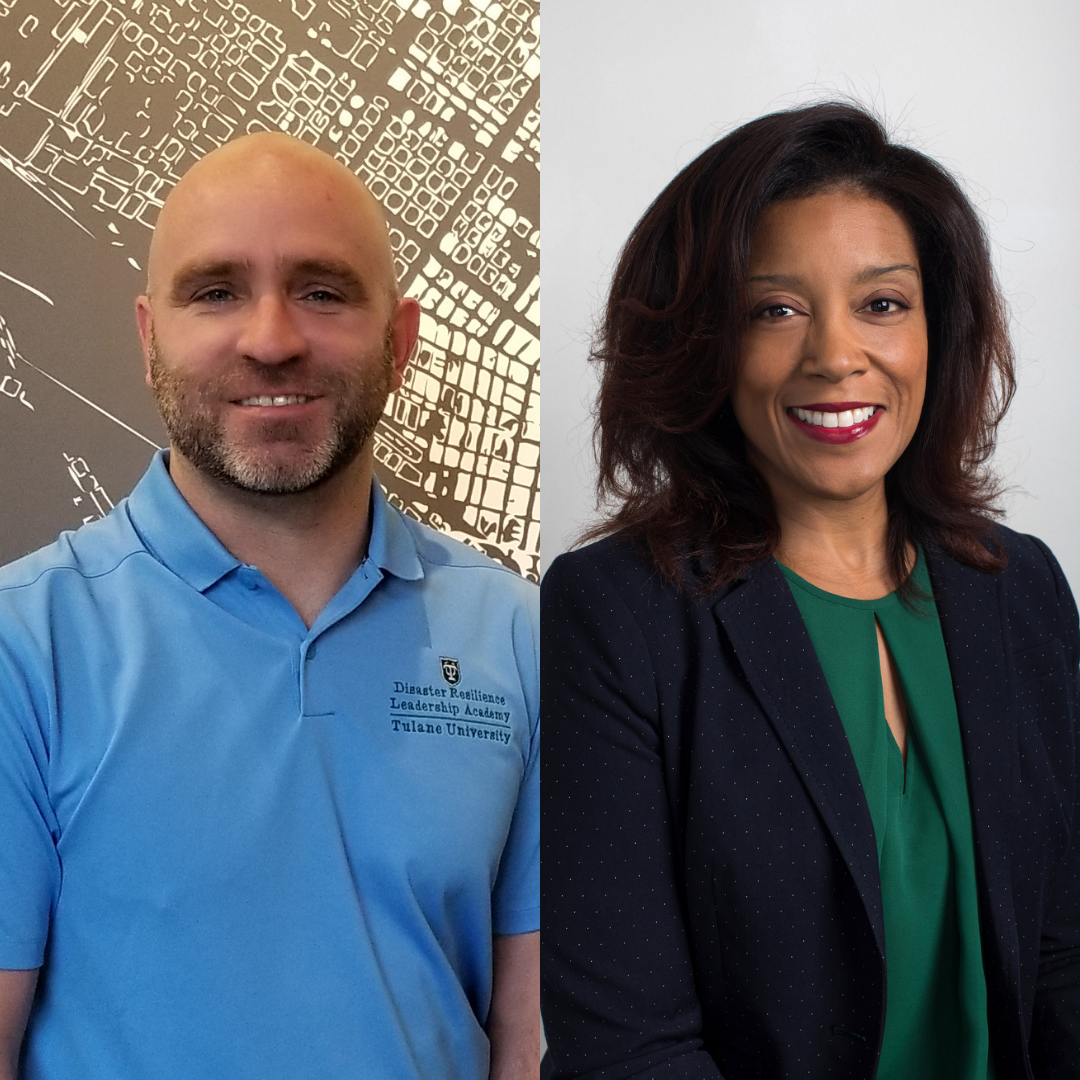 While disasters do not discriminate, they can reveal inequities. This is a lesson the United States has learned through its experience with the COVID-19 pandemic. That knowledge and much more can be integrated into the higher education curriculum that prepares the next generation of leaders in disaster management, preparedness, and resilience. That is why disaster equity is the focus of the upcoming summer institute from the Disaster Resilience Leadership Academy (DRLA) at the Tulane University School of Social Work (TSSW). 
Since its founding in 2011, DRLA has been on the forefront of graduate level education to support individual and community resilience in the face of natural and human-made disasters. Students in DRLA's master of science, certificate program, or dual degree with social work learn within an interdisciplinary curriculum that strengthens their leadership capacity and knowledge of evidence-based approaches. The summer institute is an extension of that and an opportunity for any graduate or professional student at Tulane to immerse themselves in emerging topics in the field of disaster management and risk mitigation.
Previous summer institutes brought students to Washington DC, but last year's institute pivoted to a virtual setting for pandemic resilience with topics like grant writing and crisis leadership. This June and July, four virtual, interactive Saturday sessions will connect participants in the DRLA summer institute to gain a deeper understanding of how to approach equity within the profession, which is a needed endeavor according to Dr. Reggie Ferreira, DRLA Director and Associate Professor. "There's a void in the industry with regards to equity, and there's not a lot of curriculum in the disaster management space looking at equity," he said. "We want to ensure that the next generation of practitioners are more culturally aware and sensitive to the needs of diverse communities."
To facilitate the summer institute, DRLA has brought in Monica Sanders, Associate Professor of Sociology and Criminal Justice at the University of Delaware, who has research interests in technology and vulnerable groups and legal constructs for just recovery. Sanders also served as Senior Legal Advisor for International Response and Programs at the American Red Cross and was a Senior Committee Counsel for both the House of Representatives and Senate Committees on Homeland Security. Sanders and Dr. Ferreira connected two years ago when she was serving as Director of the Bill Anderson Fund, an organization named in honor of Dr. William (Bill) Averette Anderson, a groundbreaking research leader in hazard mitigation studies and community engagement. 
Sanders expanded on Dr. Ferreira's statement about the void in disaster management education. "Most universities focus their curriculum on research or practice. They do not have any equity, cultural competency, or social cohesion components," she said. "They are doing work to alter the makeup of the field, focussing on increasing diversity of the people who go into the workforce, but equity is the work of everyone."
The DRLA summer institute on disaster equity will expand its participants' capacities in a number of ways. The morning session will feature presentations from experts in climate justice, including researchers and activists, and the afternoon will focus on applying that knowledge as individuals and in groups with special coaches or mentors. At the end of the institute, participants will have two fully developed documents - an advocacy plan and an internal training plan on how to bring forth knowledge about climate justice. "Often as an academic, you may not develop a document for application, and someone from a practical field may not have a research piece," Sanders said. "Those in academia will develop a professional writing sample, and those in practice will have the academic experience of writing research."
They will use technology, including mapping tools and video editing, to demonstrate social vulnerability. "We'll learn about what's going on with the loss of certain ecosystems, and map it to see how this impacts local communities," said Sanders. "Then, we'll ask 'while the wealthy will choose relocation sites in advance, what will happen for the people who cannot plan to relocate to a more attractive location?'"
Sanders said the application of this knowledge extends far beyond the day-to-day of disaster operations and hazard mitigation. "We have our black-line jobs, and our red-line jobs. The black-line is where you do your job, and the red-line is where you look out for harm," she said. "We have to understand the historical and legal underpinnings of policies and response and how natural science, social science, and legal doctrine come together."
The DRLA program embeds interdisciplinary knowledge into its curriculum. "We want to have a spot for everyone around the table when it comes to discussing disaster resilience. Not only are they welcome, but they should be here," Dr. Ferreira said. "What we do at DRLA and especially with this summer institute aligns with university initiatives like developing coastal resilience and diversity, equity, and inclusion."
Dr. Ferreira added that now is the time to incorporate these additional challenges around equity and climate justice into learning outcomes. "Ideally what we develop in this institute will be infused across the DRLA curriculum. We do not want to send graduates out to cause more harm to communities," he said.
Understanding climate change and its impact on equity and justice is critical for the future within the U.S. and around the globe. "Right now, we are mischaracterizing people as economic or conflict migrants, especially those from Central and South America," Sanders said. "They may actually be moving because of the impact of natural disasters and the lack of recovery, and the continued economic and political instability only adds to that."
Every human wants to preserve their home in the face of uncertainty, and Sanders certainly has that in mind with the DRLA summer institute on disaster equity. "We have to understand intersectionality - how all of this fits together - and take these lessons into our community work," she said. "We have to understand equity in the caring position on a one-to-one level. Understanding your role will help you to not be overwhelmed."
As a New Orleans native, Sanders takes these challenges to heart. "New Orleans just celebrated 300 years, and I want my hometown to see 400 years. Yet, coastal erosion has made it so that the state of Delaware can fit into where our coast used to be," she said. "This program is personal for me. Something about doing something for home makes it special."
The DRLA Summer Institute on Disaster Equity (DRLS-6710) is fully virtual and open to all graduate and professional students during the summer 2021 semester. Registration is available through Tulane's class scheduler.