You are here
TSSW Launches Undergraduate Course in Protests, Activism, & Social Movements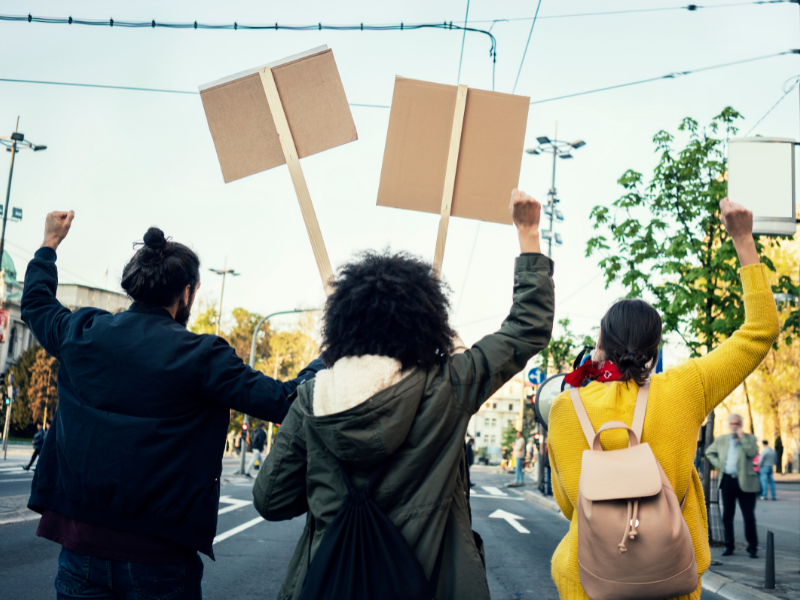 People throughout the United States are mobilizing to change the structures that marginalize and oppress individuals. What isn't always evident is how these social movements came to be and what lessons they can teach to inspire effective and sustainable action. Providing context, concepts, and models of social justice activism is the goal of a new undergraduate course from the Tulane University School of Social Work.
Developed by TSSW professors and Empowering Change Task Force Co-Chairs Dr. Deidre Hayes and Dr. Reginald Parquet and listed as SOWK 3500 in Tulane's course catalogue, "Protest, White Supremacy, Social Justice, and EDI Activism" examines the historical, sociopolitical, sociocultural, legal, economic, and pedagogical aspects as well as the experiential processes related to protest and activism, especially in the areas of equity, diversity, and inclusion. 
The persistent inequity revealed over the past year necessitated this course's development. "With the protests across the country and in the city, reinvigorated after the George Floyd murder and subsequent injustices, we thought it would be helpful if students had a structure or model to engage around EDI issues." Dr. Parquet said. "This course will help them develop their own concepts and models of protest."
As activism around racial justice continues, conversations TSSW Dean Patrick Bordnick had with respected New Orleanians working in the Civil Rights Movement helped to inspire the course's creation as an outlet for students. "Calvin Johnson, a prominent activist and retired Judge, reminded me that everyone has a place in movements. Some will march, some will be behind the scenes, and some will carry the work forward," said Dean Bordnick. 
The hope is that students gain a productive and effective way to channel feelings and desire for change. "People are legitimately angry," Dr. Hayes said. "And, understanding the depth of the strategy to make protests and activism work could empower them."
Students within the class will hear from nationally renowned scholars and activists, develop an understanding of the insidious nature of white supremacy, and examine a variety of eras, approaches, and organizations in order to gain the "nuts and bolts" of protest and activism. They will also look at art, music, poetry, and slogans that are part of social movements. 
As a way of focusing their personal engagement with what they learn, a major activity in the course is called "Activism in My Neighborhood" where students will choose an issue in their community to benefit from activism and design a strategy around that issue.
Another activity will have students look at avatars that play different roles in protests around environmental justice, and they will use that information about how to create an effective activism strategy and provide their own reflections.
The course hopes to build knowledge and skills that result in a transformative experience for the students. "We want them to understand how different movements build upon each other, separately and in concert, to create change," said Dr. Hayes. "And, then to answer the questions like 'once you do the protest, what happens next? How do you affect long-lasting, sustainable change?'"
Courses like these provide value far beyond completing a requirement or getting a grade. "I believe that the social work profession and its mission and goals are really principles of life. The things we purport in our profession speak to our entire humanity - encouraging self-determination, supporting marginalized populations, standing up for social justice," said Dr. Parquet. "Articulating our mission through undergraduate courses provides an example of what education should be about, which is how we relate to each other as human beings."
As social workers, Dr. Hayes and Dr. Parquet recognize that sharing this information is part of the profession's mission which holds social justice as one of its core values. "I'm so grateful to Dr. Hayes and Dr. Parquet for leveraging their expertise and passion to build this course in support of our students, the school, and our community. By framing protests and activism from historical to contemporary times, students will discover their place in evoking effective social change," said Dean Bordnick.
While its focus is providing top-tier graduate programs, TSSW offers a number of undergraduate courses to support the education goals of all Tulanians. This fall, TSSW is pleased to introduce three new undergraduate courses, including "Protest, White Supremacy, Social Justice, and EDI Activism" (SOWK 3500), "No One Lives Forever: Death & Dying in the Modern Era" (SOWK 3200) and "Morphology of Disasters" (SOWK 4800). More information is available in Tulane's Schedule of Classes.