You are here
Stories from the Field: Community Meals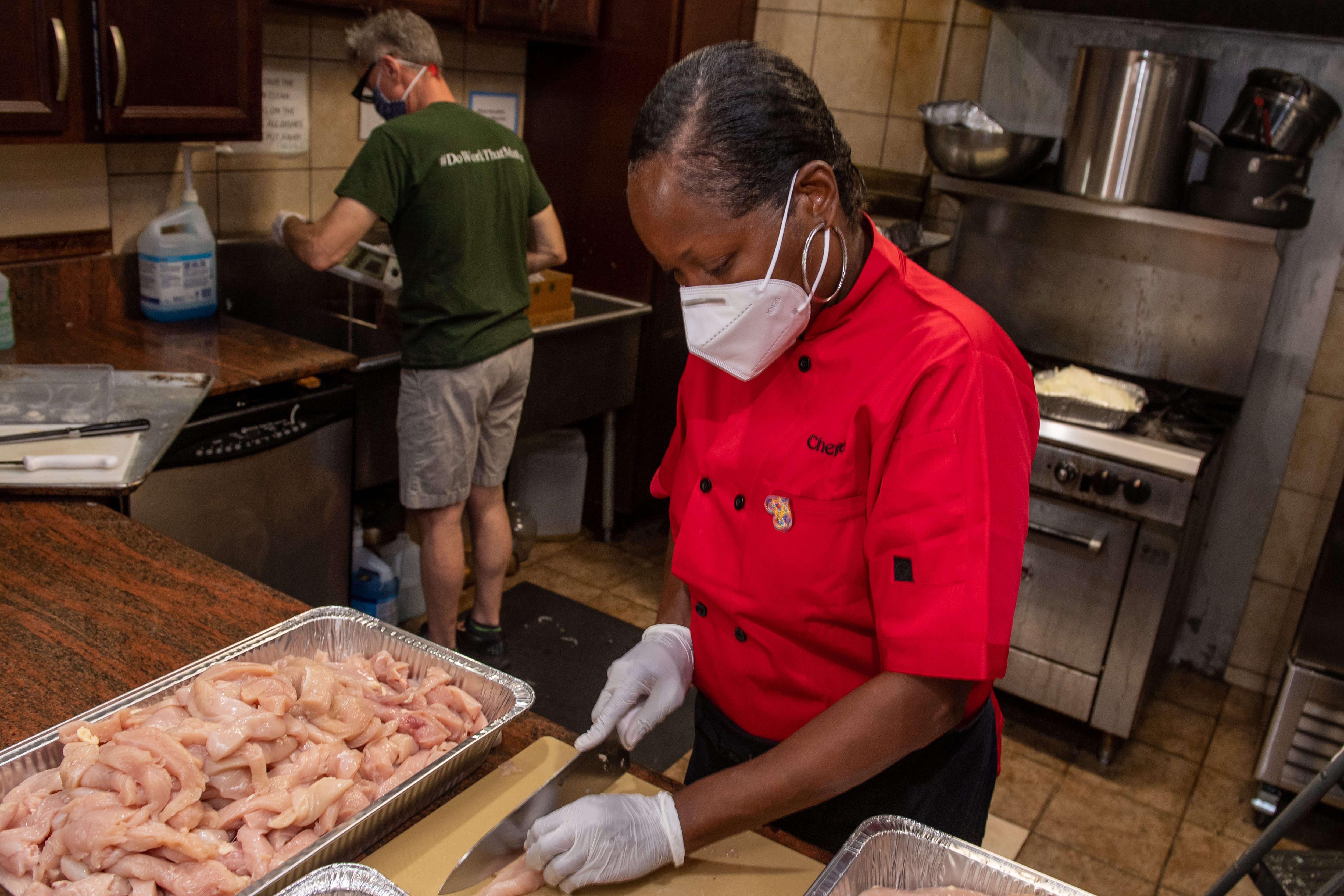 Cooking a large meal on a Sunday morning in New Orleans is not an unusual occurrence. The smells of the trinity - onions, bell peppers, and celery - often waft through homes and neighborhoods as people seek comfort and connection through food with family and friends. This is the inspiration for a group of Central City volunteers that includes members of the Tulane University community and their families.
Bethlehem Lutheran Church is the oldest historically Black Lutheran Church in the South and has been a cornerstone in Central City at Washington and Dryades.  With a longstanding commitment to providing and advocating for underserved communities, Bethlehem Lutheran Church members envisioned a way to feed the community. The "Community Table" free meals began on March 1, 2020 as a way for people to enjoy a quality meal and conversation.  It opened the event to the entire city and provided lunches at no cost. Chef De Borah Wells, Dr. Patrick Bordnick, Dean of the Tulane University School of Social Work, along with his spouse Dr. Allison Stock, and other volunteers coordinate and cook. Pastor Ben Groth, PhD candidate in Tulane's History Department supports the work and engages the community while handing out the meals. 
When the church could not hold the Community Table in person due to restrictions that mitigate the spread of COVID-19, the volunteers quickly shifted to a "to-go" model. 
Where their first Community Table meal started with wraps, serving over 50 people, it has evolved to gourmet offerings twice weekly with 230+ meals each time. "Our shared belief is 'food is a human right,' and we want to take that a step further," said dean Bordnick. "New Orleans is known for its culinary excellence, and everyone should enjoy a hot gourmet meal!" 
The volunteers bring flavor and new experiences for those receiving the meals. "Chef De Borah Wells has worked at New Orleans finest restaurants and inspired us to introduce new flavors and foods - things like kale, quinoa, curry, lentils, and so much more," said dean Bordnick. Without repeating over the past several months, Community To-Go has served Thai BBQ ribs, Caribbean chicken, chicken fennel parmesan po-boys, Cajun beef sirloin poutine, hand-battered onion fried chicken, and other delicious meals. They also always offer a vegetarian option.  "It is important that the food we present is top quality in taste and presentation like you will find in top dining venues. The dishes served are tied to the community and this is a way to bring them back home," says chef Wells.  
As they sought to bring flavor and creativity, the volunteers still had to work within a budget and set up systems to cook and distribute meals. Stock and Bordnick working with Wells learned food costs, shopped around for deals, and found new ways to acquire ingredients. "When we started sharing on social media what we were doing, we also started getting offers of food and money in support," said dean Bordnick. "You only have so much that you can spend, and we want to make the meals special for our community. So, we get creative."
The process of serving 200+ meals begins with early Saturday and weekday drop shipments of supplies. "I'm not sure what our neighbors think when they see twenty to thirty boxes on our front porch," said dean Bordnick. 
Wells, Bordnick, and Stock now cook on Tuesday evenings for the Wednesday meals, and early Sunday for a 12pm serve time.  Each meal prep, may include butchering over 50 lbs. of beef or poultry, creating sauces or spice blends, and making the service ready for other volunteers who join them a few hours later. "Once you learn from the best - Chef D - you get in sync in the kitchen," said dean Bordnick. "I was honored when Chef referred to me as her 'sous chef' to which I replied, 'amateur sous chef,' and we both laughed."
Seeing the need of Louisianians impacted by Hurricane Laura, Wells, Bordnick, and Stock headed to the kitchen on a Wednesday night, where they cooked until 11:30 pm to prepare over 300 meals that were delivered by Chef Amy Sins to the Lake Charles area.  
Others involved in Community Meals To-Go include their three daughters and TSSW and Tulane community members who regularly volunteer, including Dr. Crystal Broussard, MSW Program Manager, the church's Pastor Ben Groth who is also a Tulane PhD candidate with the School of Liberal Arts, Jocelyn Simons and May Chynes who are both PhD students in the School of Medicine's Center for Aging, and other Tulane students through the University's Center for Public Service. Everyone is masked up and practicing social distancing as they work. Also, some Loyola faculty and other community members are volunteers.
Since March, this program has served over 9500 hot, fresh, gourmet meals to anyone that stopped by the church at noon on Sundays or Wednesdays.