You are here
Student Spotlight on Dorsey Amos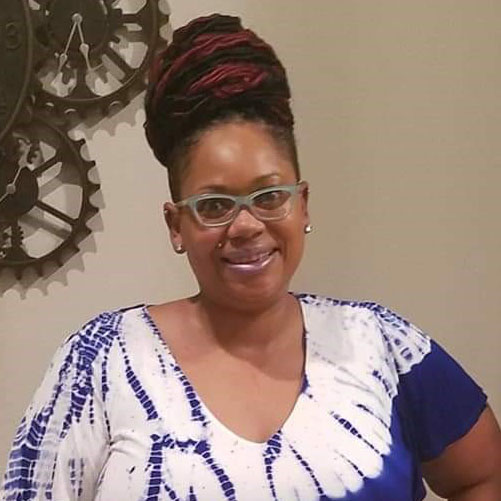 Growing up in Washington, DC, Dorsey Amos witnessed substance abuse, homelessness, and gang violence, but she also saw mentoring, sports, and vocational programs that were truly saving at-risk youth. Seeing that gave her good examples of how a village can raise up a person, and she is now a student in the Tulane University School of Social Work online Master of Social Work program.
Dorsey is the wife of a retired disabled Army Veteran, lives in Leesville, LA, and has three sons and a daughter. Before coming to the School of Social Work, she was an educator that taught early child development for a junior satellite college, and she trained caregivers in early childhood development to recognize and prevent child abuse.
Tulane's prestige and the anti-racism writings of a Tulane alum brought her to the online program. "I read Tim Wise's White Like Me: Reflections on Race From a Privileged Son and really appreciated his desire to bring unity by dismantling racism," Dorsey said. "When I learned he was a Tulane alum, I knew Tulane was right for me."
As a young black woman working in an all-white salon for her first job, she was afraid to talk. She felt like she wasn't herself. "We all have these ideas, and the reason we do is because we aren't exposed," she said. She was grateful to find someone different from her with which she could connect and learn. Much of what drives her to social work is related to the trauma her bi-racial brother experienced by not being accepted, and she wants to continue to engage in the "hard-to-have" conversations about race.
The best advice she received from the MSW program was to consider her own wellbeing while caring for others. "Social workers practicing self-care is critical to preventing burnout," she said. She appreciated her professors teaching about secondary trauma and sharing the importance of making time for oneself.
Her personal mission is one of healing and change, and she wants to help people to listen and to be more teachable. Using her own experiences and those of other women in her family, she is currently writing a memoir to heal anger toward men and help them understand the harm they do to women. With her Sis, Why Are You So Angry? book, she hopes to create healthy connections, especially in minority communities.