You are here
Celebrating Four Decades of Service: A Spotlight on Dr. Ronald Marks, Dean Emeritus and Associate Professor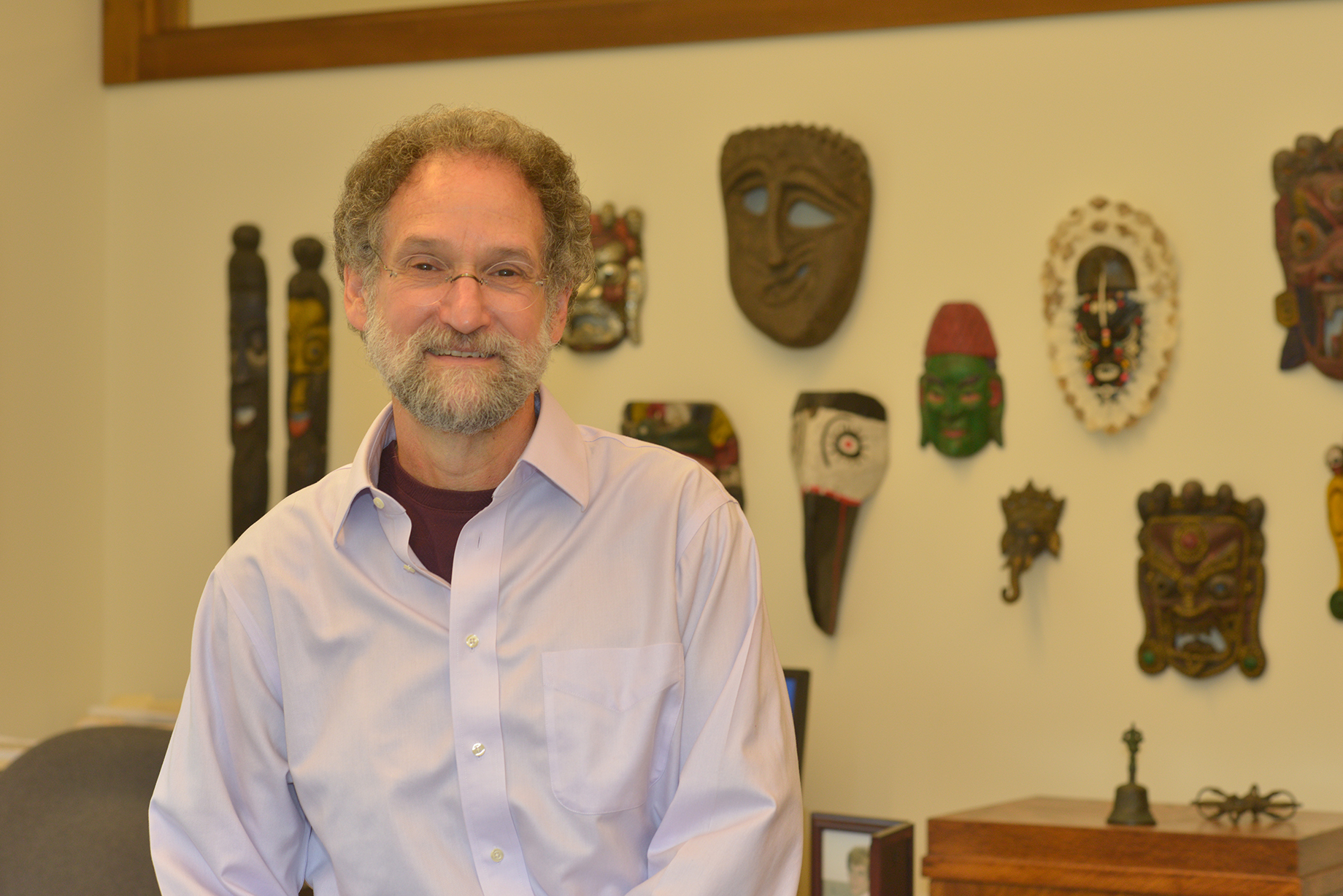 Dedicating one's career to building community and promoting well-being and social justice is rare and deserving of celebration. For Dr. Ronald Marks, Dean Emeritus and Associate Professor of the Tulane University School of Social Work, his upcoming retirement is not an end to that commitment. His over four decades of connection to social work education speaks to the profession's foundations and sets an example for longevity and enthusiasm.
At the beginning of his social work journey, Dr. Marks found himself engaged in the mental health field at the critical time of deinstitutionalization. While he was an undergraduate at the University of Pittsburgh studying psychology, he had a paid summer internship between his junior and senior year where he worked at a community organization staffed largely with master's level social workers. "There had been many thousands of people who were institutionalized in mental health facilities, and many had been there for 30 to 40 years," Dr. Marks said. "Many of these people had been diagnosed with schizophrenia at a young age and at a time prior to the development of psychotropic drugs to treat severe psychosis. This organization's charge was to go into the institutions with the idea that we could bring the residents out of these restrictive environments and support them in the community, giving them new lives."
This experience stayed with Dr. Marks after college, and as he took time to focus on his future, social work emerged as a path for him. "The profession is in keeping with my values of human dignity and the importance of community, and I wanted to work with other people in the ways that social workers do."
While attending the University of Pittsburgh's MSW program, his professors encouraged him to continue his education. He received a master's in public health and PhD in social work and went into the world of academic social work. This path, however, was more than just a career, Dr. Marks said. "It was always about being fascinated by the human condition, understanding relationships, valuing human connections, and being part of a community."
Dr. Marks entered the profession at a time when it was burgeoning, and so many important academic opportunities were becoming available. He wanted to continue his intense doctoral training in research, methodologies, statistics, and theory to support these developments within the profession. "I wanted to continue to tell the story of social work and unfold the world of knowledge to develop social work practice," he said.
He also hoped to share this knowledge, which is an aspect of his career that Dr. Marks values - teaching. "After taking my first teaching position, I knew this was the right place at the right time and was completely committed. I love working with students. It's been a never-ending opportunity to continue to learn," said Dr. Marks. "It is a joy and privilege to spend so much time with students of all ages and predispositions, learn from them, and be inspired by them."
The social work profession attracts those who have a deep respect for improving the conditions of people in their communities. This is why social work education is so critical in providing knowledge and skills that support their passion without diminishing it. "I always wanted first semester MSW students to have as much joy in their first class as their last class," Dr. Marks said. "And it is thrilling to share this time with them. Our students are empathetic, sensitive, compassionate individuals. We respect each other and get to have deep conversations. The opportunities for deep personal and professional growth are vast."
Time at Tulane
In the same way the social work profession was blossoming in the 1980s, TSSW was ready to grow as well. Dr. Marks joined TSSW's faculty in 1985 and proposed bringing his focus area of gerontology to Tulane as a whole. The federal government at this time was promoting the study of geriatrics and gerontology, and Dr. Marks worked with others to obtain a $1 million grant to develop a geriatric education center. It incorporated several other universities in New Orleans and nine different academic areas including medicine, social work, architecture, pharmacy, psychology, and others. Their charge was to collaborate in development of their professions' knowledge bases. Dr. Marks served as the grant's co-principal investigator and center's director.
His interest in leadership and administration also provided him the opportunity to be the director of TSSW's MSW and PhD programs. That experience led him to be named interim Dean in 2001. After a yearlong national search and with the unanimous support of faculty and staff, he was officially appointed Dean in 2002 and served in that position for fifteen years until 2016. "In all of these roles, the opportunity was not so much about directing things," Dr. Marks said. "It was more about bringing people together, building community, and I saw unlimited opportunities in the Dean's position to do that."
One of the toughest challenges Dr. Marks faced as Dean came in the form of Hurricane Katrina, and in true social work fashion, the School was able to focus on strengths and use its sense of community for recovery. "Prior to Katrina, the School of Social Work was on a tremendous positive trajectory. Our stellar faculty had so much to offer." During this time just prior to Hurricane Katrina, Dr. Marks encouraged the faculty to develop and offer undergraduate classes at Tulane for the first time. "With the addition of new programs of undergraduate education and a thriving enrollment, the overall financial health of the School blossomed," Dr. Marks said. "Then, everything dissolved. It took us eight days to locate all of our faculty and staff to assure that they were all safe."
Dr. Marks admits it was a trying time, but that the School learned and grew from the experience due to the vibrant community it had created prior to the storm. "We were able to come together after the storm and revive our community in such an enthusiastic way. We took advantage of those connections to really make the best out of a really demanding time," he said. "We were clearly a community that shared many common goals, and it was our hard work of developing our community that enabled us to do so well at a time of disaster."
Most MSW students were able to come back and complete their programs, and TSSW was the first school at the University to hold a commencement after Katrina in the Spring of 2006. The years after Katrina also brought new programs and focus areas. Under Dr. Marks' leadership and with an extraordinarily committed faculty and staff, TSSW created a new DSW program and expanded and concentrated its expertise in disaster mental health. "We saw first-hand the importance of trauma and resilience, and we were sensitive to the needs of our community – we were in the epicenter of a major disaster," said Dr. Marks. 
Dr. Marks brought the Disaster Resilience Leadership Academy to TSSW. A significant gift from a donor coupled with Dr. Marks' application to the Louisiana Board of Regents for a million dollar matching grant resulted in  the School's first endowed faculty chair focused on disaster mental health, disasters, and trauma. This helped to focus research and expertise at the School and resulted in additional faculty hires interested in disaster mental health, trauma, and resilience.
Reflecting on this theme of community building, Dr. Marks remembered the old social work building on the uptown campus and how it and the current home of the School reveal so much about who we were and what we valued. "That old building holds so many good memories…students met there, fell in love and got married," Dr. Marks said. "It was an old building and woefully in need of a renovation. But it was our building. In the winter, the radiators rattled like the Rebirth Brass Band was in the basement banging on the pipes, and in the summer, the drone of the window units made the choice of sweltering and hearing each other or having cool air and not hearing a difficult choice to make. Anyone who was part of the School while there remembers with fondness time in room 103." 
The School of Social Work moved into this building in 1956, and it was home to the School for 56 years until 2014. Dr. Marks recounted working for several years with the University administration to find a new home for the School. When his efforts finally came to fruition, Dr. Marks working closely with the University architects insisted that the School's faculty and staff should be central in the design of the new building. A charette, an intense period of design and planning, was arranged by the architects who began by asking the group to articulate the ideas they wanted to see in the new building. "They instructed us to use words that would capture our values which they would then turn into design characteristics," Dr. Marks said. "In many ways, this experience defined who we were. The concepts that emerged were openness, inclusiveness, inviting, bright, welcoming, and engaging."
This time also saw growth in the School's international involvement led by Dr. Marks' expertise in international health. Just prior to Hurricane Katrina, the School hired the first full time staff member dedicated to international social work, making it the only school of social work in the country with a full-time staff dedicated to this area. A certificate program including newly developed curriculum focusing on international social work was developed and included a full semester field internship overseas with field placements in India, south and central America, and several countries in Africa.
These opportunities for growth and engagement are not the only ones for which Dr. Marks is grateful. In 2002, Dr. Marks developed an elective course "Journey to India" which enabled students to travel to North India for a four-week immersion into the Indian subcontinent. For Dr. Marks and the students, this was a profound opportunity for learning. One goal was to understand how to develop social and health programs in a resource poor part of the world. Perhaps more importantly, as Dr. Marks said "The focus was on personal and professional growth and the opportunity to see the connection between these two areas. Traveling with our students through the Indian sub-continent was a remarkable experience." Dr. Marks recalled a quote from the French novelist and essayist, Marcel Proust, when reflecting on this travel "The real voyage of discovery is not in seeing new landscapes but in finding new eyes."
Eighteen consecutive trips to North India provided students an immersive and profound learning experience. "They allowed us to dig deep in engaging with communities, learning what it means to be human, to not only arrive in a community but to enter it," Dr. Marks said.
A major destination of this journey was a small village in North India, Dharamsala, home to the Tibetan government in exile. It is here where the Tibetan people, fleeing persecution in their country, arrive to begin a new life, and  it is the home to His Holiness the 14th Dalai Lama. "We were leaving our comfort zones, learning from very profound wisdom keepers, hiking up Himalayan peaks and immersed in cultures which provided very deep learning to take place," said Dr. Marks. "It was never about bringing knowledge to them. It was about how to listen to the community and learn from its people."
When asked about the demands of this type of travel, Dr. Marks replied that it was emotionally and physically challenging - difficult but always rewarding. "It's a gift to be challenged to learn in different environments," he said. "We respected the anxiety that would come from being challenged, and therein lies the opportunity for learning. The learning is worth the difficulty. We never went into it knowing with certainty how it was going to unfold, and therein lies the adventure of learning and a true journey."
On these trips, Dr. Marks and the students had many private audiences with the Dalai Lama. Returning to this community over several years demonstrated a commitment to the community and nurtured a substantial relationship. It was this commitment and engagement that enabled Dr. Marks to hand-deliver an invitation for the Dalai Lama to visit New Orleans in 2013 which he accepted. His Holiness participated in a two-day conference on resilience, offered two public teachings with over 40,000 in attendance, received an honorary Tulane degree and gave the 2013 commencement speech to a crowd of over 20,000, the largest in Tulane's history. "It was an extraordinary time filled with so much positive energy for New Orleans, Tulane and the School of Social Work and the tens of thousands of people who participated," said Dr. Marks.
Looking Ahead
With so much time connected to the social work profession, Dr. Marks has seen what has stayed the same and what has changed. He said the essential work that practitioners do hasn't changed though given how the world has become so interconnected, the profession has expanded to recognize global issues. "Many more social workers are working in international activities and refugee and immigrant issues and recognizing how we are all profoundly connected," he said. 
Fundamentally the profession has remained largely the same in the sense that it has had a wide spectrum of approaches from social policy that deal with social and economic justice to the micro approach working with individuals, families, couples, and communities. He acknowledges that over the years a tension has existed there, but that is starting to dissipate. "We are recognizing that those ends of the spectrum are all really critical to the profession, and what we try to do now is recognize how important integration is," he said. "We cannot forget that policies affect everyone in their day-to-day lives."
The social work profession has more sophisticated tools and applications by way of computers and other technologies to support it; however, Dr. Marks said he appreciates how the profession remains committed to what drew him to it in the beginning. "We remain committed to the many social forces that affect people and communities," he said. "We need to continue with being interdisciplinary, which speaks to the systems approach that is clearly highlighted within social work. We need all of the professions to work together to create a better world."
Social work is lifelong learning, and Dr. Marks has gained so much in his variety of roles. "As an administrator, I learned the importance of listening to people and engaging in deep dialogue to make important decisions," said Dr. Marks. "When I was teaching, I learned it was important to say 'I don't know,' when I don't know, and 'let's think about this, dig deeper into this and learn together.' It speaks to inviting people in to participate with you in moving forward in understanding the world."
What learning Dr. Marks can pass on to faculty, staff, students, alumni, and those considering a career in social work has to with the importance of the profession. "The needs are vast, and this is an important time for the profession. The divides in our world have become increasingly pronounced," he said. "You have made a good and important choice. There will never be a profession that will be as fulfilling, regardless of the dimension you enter it or population with whom you work."
Even while discussing change and the future, Dr. Marks shares the reminder to be present. "Do not worry about what's coming next. Engage as deeply as you can in your study. Learn from one another. Take advantage of school, university, and community opportunities," he said. "Your education is a springboard to a lifetime of learning. Embrace that. Build on the knowledge of how we are going to be in the world. Appreciate those opportunities."
Dr. Marks continues this focus on the present even as he prepares for retirement. In speaking about his time as the Dean, he said "there are parts of being a Dean that are hard. No job is all good all the time, and there are so many important constituencies and stake holders of whom I never lost sight – students, faculty and staff, alumni, the community, and the School's committed donors. I loved being the Dean, and now I love not being the Dean." 
When he returned to the classroom after being Dean, he enjoyed regaining his relationship with students. That is something he will remember fondly. "I will miss the excitement of our students and their enthusiasm for learning and engaging with the world. I will certainly miss the camaraderie of my colleagues and thrill and engagement of developing new projects," he said "It has been a privilege to be a leader in an academic institution. It's one of the ways that we can contribute to leaving the world better off than when we came."
Dr. Marks is truly relishing all the joy he had being part of Tulane and its School of Social Work. "I have wonderful memories of all the important work we did together and have only the best wishes for the school to be the best it can be. It has been a special place in my life."
Please join TSSW in honoring Dr. Marks with a virtual retirement celebration on May 21, 2021 from 4 to 5 pm CT via this Zoom link.