You are here
Stories from the Field: Cooperation and Collaboration in Palliative Medicine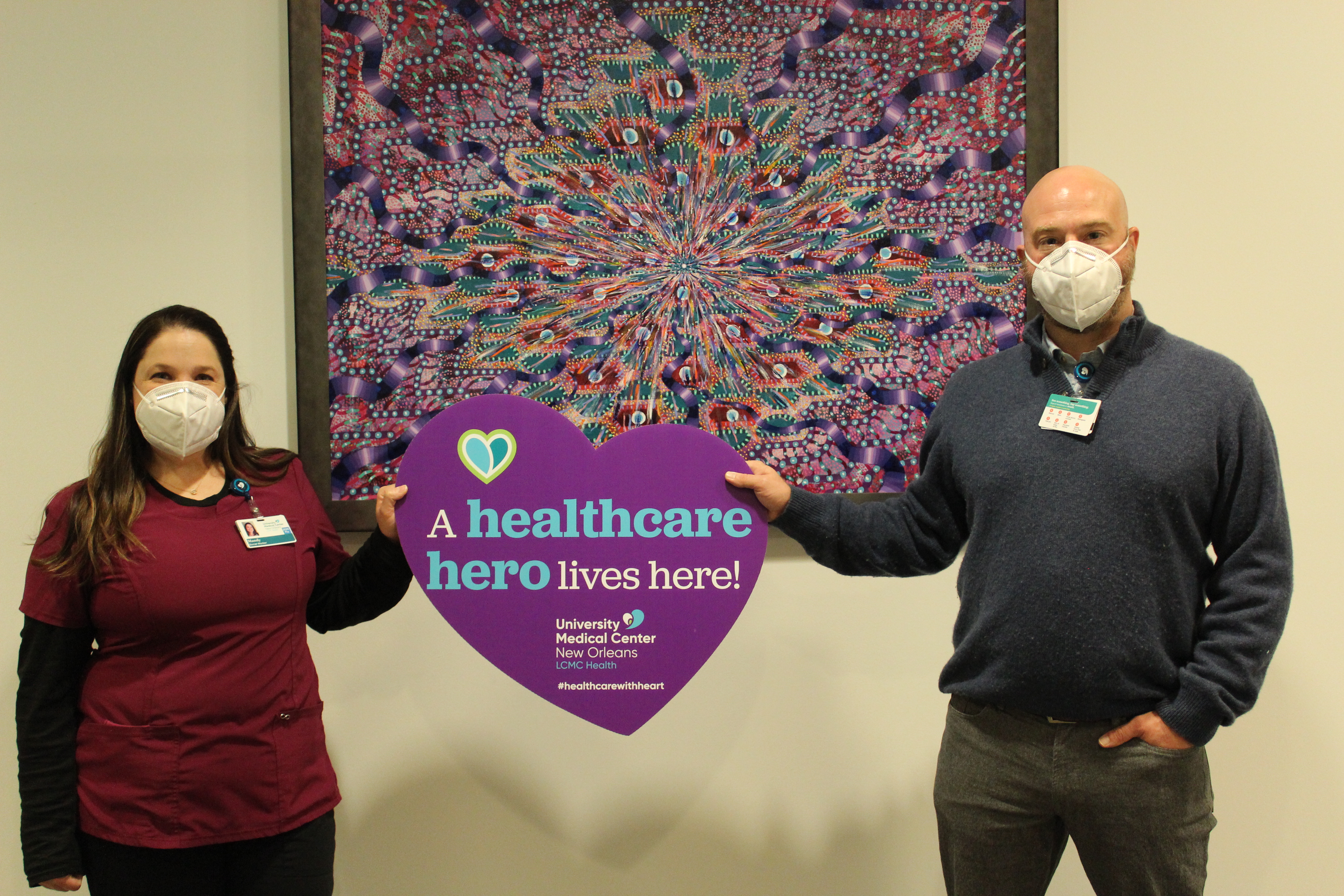 Interdisciplinary Palliative Medicine teams within a healthcare setting provide comfort and improve quality of life for those of all ages living with serious illnesses. Social workers play key roles on these teams, addressing mental health needs and connecting patients and families with resources. Through his field education internship, a recent Tulane University School of Social Work Master of Social Work graduate has worked with a Palliative Medicine social worker at University Medical Center New Orleans (UMCNO) to refine his skills and provide much needed services during the COVID-19 pandemic. 
Since January 2020, Ryan Sparks has been working with Mandy Swalm, LCSW-BACS, a social worker practicing with UMCNO's Palliative Medicine and Supportive Care Team. "Not everyone we work with has a life-limiting or life-threatening condition," said Swalm. They support patients with addressing symptoms including pain management and can help with advanced care planning. They also look to improve communication between teams, doctors, patients, and families. Swalm also provides outpatient psychotherapy visits for Palliative Medicine patients and families that are 60 minute sessions through the UMCNO clinic.
For those that are staying within the hospital, Palliative Care social workers provide psychosocial support and information. "A patient may be having issues with adjustment to their illness. We talk with patients and their families to understand their emotional distress," Swalm said. "Sometimes that is coming from being in the hospital. Sometimes it is from the outside. And sometimes it's both."
The interdisciplinary Palliative Medicine team includes doctors, nurses, chaplains, nurse practitioners, physicians assistants, and other staff and consultants working with other teams, such as trauma or oncology for the care and well-being of patients. Sparks appreciates the interdisciplinary nature of the team. "What we learn from families is useful to physicians," he said. "We get more context about their social history that may have an impact on their care level here, so social work is not an auxiliary. We are participating in the patient's care on a daily basis."
The COVID-19 pandemic has changed the Palliative Care team's work in unique ways. "The pandemic has allowed opportunities for growth for the social work role," Swalm said. "While we are much busier with a census that has tripled, we were allowed to innovate and still provide the quality of care our patients deserve." The entire Palliative Medicine team at UMCNO was able to come together, change their structure, and make innovations to help meet the growing numbers of patients and the needs of them and their families.
One innovation was an expanded skill set in telemedicine which the entire Palliative Medicine team adopted. Swalm also uses this for her outpatient counseling appointments. The pandemic created the need to care for individuals differently, and that needed to extend to colleagues. To that end, Swalm and Sparks also supported several months of Social Work Wellness Rounds offered to all social workers within the UMCNO system.
As families of patients with COVID-19 began to lose their loved ones, the Palliative Medicine team including Medical Director Dr. Sonia Malhotra and Swalm and Sparks recognized the need for a bereavement program. "We wanted to be in touch with them, so we started with a phone call as a well-being check," Sparks said. "We've been doing that for a few months and will continue it for a year."
The team asks a series of questions to gauge where someone might be in their grief processing or what types of resources are needed. "Something we've been talking about lately is the holidays and what a challenge that might be," Swalm said. "We can also refer them for counseling, or I may offer grief counseling through the clinic." 
Sparks was instrumental to the implementation of this program. With COVID-19 restrictions in place, he began making phone calls to establish relationships with family members despite not being in-person. "When a few individuals had passed, I realized that the families may be dealing with something different and unexpected," he said. "This interrupted their lives. They were not prepared. And, they were not able to be there when their loved ones passed away. It was heartbreaking."
He and Swalm understood that families of COVID-19 patients needed as much support as possible, so they initiated follow-up calls to check in on each family's situation. "We listened to them, their stories about their loved ones, the frustration with limited funeral services, and the dealings with estates," Sparks said. "People were torn up, and I'm glad that I was able to provide a listening ear."
Those the team contacted were grateful to have these conversations. "It's a little different when you can talk for fifteen minutes without an agenda," Sparks said. "It's more meaningful than a card." They hope to continue the bereavement program as it has been a tremendous help to families and has extended UMCNO's reputation into the community. 
Palliative Care and its medical subspecialty, Palliative Medicine, is an emerging practice within the social work field. Swalm and Sparks are grateful to find themselves in these positions.
As a psychology undergraduate student at Louisiana State University, Swalm took a social work course with a phenomenal instructor and learned about what the profession did. She continued her career in mental health counseling and medical social work, including case management, transplant assessments, cystic fibrosis support, geriatric services and mental health treatment in outpatient partial hospitalization programs and intensive outpatient programs. When she attended a seminar later in her career, she met Dr. Malhotra, the Medical Director of the UMCNO program who was looking for a social worker for the team. "These opportunities came at the right time. Moments like these have reassured me that this is where I need to be," Swalm said. "I've experienced a lot of professional growth in a wonderful experience at UMCNO." 
Sparks is just starting in his social work career, but he has personal knowledge of the field. He was living in New Orleans when he experienced an unexpected return to North Carolina to help his father care for his mother, who had a long-term degenerative illness. "It was a difficult time for our family, and a social worker came to talk to us," Sparks said. "I didn't know that medical social workers existed, and this social worker was helpful, giving us valuable tips and support."
When his mother passed away three years ago in hospice care, Sparks knew he was at a turning point. He did not want to return to his previous career and started reading books about end-of-life care and coordinating volunteers at a hospice. "I kept thinking about that social worker and started doing research into the variety of opportunities in the field," Sparks said.
This is what brought him to TSSW and eventually to work with Swalm and the UMCNO Palliative Care team as part of the field education program. At the start of his internship, Sparks felt capable but nervous. He knew he needed to develop greater comfort being in a hospital, walking into patient rooms, and talking to physicians. Swalm helped him develop that confidence. "She has shown me how to be open, letting patients speak for themselves and reflecting that back to them," Sparks said. "Things can change quickly. Mandy has encouraged my adaptability and understanding. I know I may be walking into a tough situation, and I have to quickly assess what I can do to help, what I can't do, or what the family may not be ready to address."
Swalm said that her goal for Sparks was to learn what a social worker does and she hopes she has been able to provide him with opportunities for any type of social work. "The skill set learned here can transcend," Swalm said. 
The field internship has not only been valuable for Sparks but also to UMCNO. "Ryan is part of the team, and we value his input - the knowledge he's gained from patients as well as his insights into what the patients are experiencing," Swalm said. "The team has felt confident in going to him and asking for his thoughts. We are going to miss him when he graduates."
Swalm and Sparks agree that those thinking about a social work career should know that the profession requires a great deal of work but that work is rewarding. Swalm recommended prioritizing your own wellbeing. Sparks added "It can take a lot out of you. If you can recognize your limits, you can grow into establishing boundaries as well as grow your listening, assessment, and all the other social work skills."
Having this mentor-mentee relationship has been important to Sparks, and he believes it is important to all who are considering social work. "Reach out to social workers before you decide and as you are doing this work," Sparks said. "Social work needs more professional and capable practitioners, and that comes from social workers teaching social workers. Mandy has been a good example of this."