You are here
Stories from the Field: Working with the LGBTQ+ Community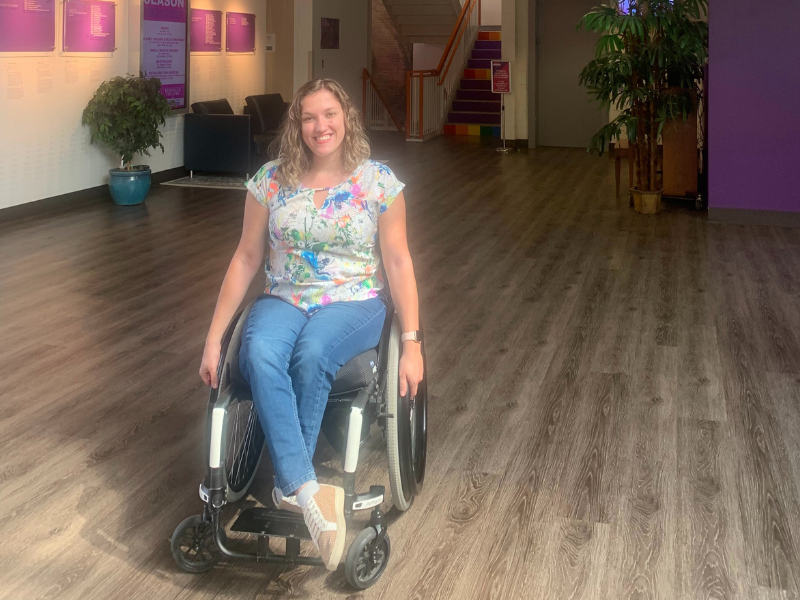 Field education, also called a social work internship, is an enriching experience for both Master of Social Work students as well as the agencies, organizations, and communities they serve. It provides space to learn and hone practice skills, apply theories, and develop as a professional while assessing needs, leveraging strengths, and advocating for access and opportunities for individuals, families, and groups. At her field placement, MSW candidate Sara Krahel has put what she learns in her classes toward helping others, which will carry her well beyond her December 2021 graduation from Tulane University School of Social Work.
Sara was drawn to social work while she was experiencing what many others were during the start of the COVID-19 pandemic. "I call it my 'quarantine life crisis,'" she said. "I had a job working in technical writing in the auto industry and wanted a career change to do something that matters, which is just like the TSSW slogan!"
After looking into becoming a therapist, Sara talked to some of the social workers she knew. "I liked the advocacy element of social work and looking at the person as a whole as opposed to a diagnosis," she said. "Social work can allow you to do a bunch of things. I could also go into policy work if I wanted. It has flexibility, and it is a growing field with so many opportunities to help people who might be struggling."
In August of 2020, Sara started the online MSW program from her home in Farmington Hills, MI, and in January of 2021, she began her field placement at Affirmations LGBTQ+ Community Center. "It is Michigan's largest LGBTQ+ center with over 30 support groups and is a place where people can feel accepted and safe and gain access to services and resources," she said.
Sara has been able to engage in several aspects of social work at Affirmations. "Primarily what I do is one-on-one counseling as we provide services for a reduced price, and I've also been involved in grant writing." she said. "Now, I'm helping to run an intersectional storytelling series, partnering with Michigan-based organizations to showcase stories that aren't always heard."
For her counseling sessions, she sees eight clients, ranging in age from their early 20s to mid-60s and of diverse race and gender identities. She appreciates being able to support them in finding what works for them, even though they are different people of different backgrounds. "I do meditations with one of my clients, and they find it helpful to do it in person so that we can talk about what came up for them," she said. "I was surprised to see how effective meditation in a therapeutic setting could be."
The pandemic has allowed Sara to practice both in-person and through virtual sessions, from which she has added a skill in telemental health that she might not have otherwise achieved.
Sara's organization, Affirmations, also gains from her placement there. "While we have hired an LMSW as a full-time counselor, the interns are mainly the folks that do one-on-one counseling," she said. "They are trying to grow their behavioral health services, and that is really important to the community. Individuals can receive quality therapy there without needing to go through their insurance."
While she had many options as she approached the MSW program, Sara's field placement has helped her refine her goal of becoming a private practice therapist. "I want to be what I wasn't seeing. I identify as a queer person and disabled person, and that lived experience is helpful for folks who are questioning their gender identity or sexual identity, to have someone who is part of the community and gets it," she said. "Having this caseload shows me what my future might look like, and that's amazing."
Sara is happy where her choice led her, and her advice to others looking at a social work career is to take the next step. "If you are even thinking about it, just do it. The career is so flexible," she said. "With my generation, that flexibility is so appealing. I'll have a graduate degree where I can do a lot of things with my life."
She adds that social work is perfect for those looking to increase the effectiveness of passion for change. "If you are someone who wants to combine advocacy with what you are doing or you are already an advocate, this education ties into and furthers that," she said.
This placement at Affirmations has been a gift for Sara as she is so grateful to work within her community. "It's a great feeling to be who you are without judgement. That's very special to be able to be out where I work and know that I am accepted as I am," she said. 
Sara is happy to report that she has accepted a full-time counseling position at Affirmations.