MSW graduate Shaniqua Wesley wanted to do something to help improve the TSSW community, and her efforts along with her classmates support led to something historical. Wesley (MSW '15) is the founding president of Tulane's first student chapter of the Association of Black Social Workers (ABSW).
"We felt that it was very important to leave this tool for other African-American students to develop even more tools for those minority students that will come after us," she said. "That's our main goal, our main vision in a nutshell."
Wesley, who earned her BSW at the University of Mississippi, entered TSSW as an advanced standing student in January 2015. As the semester wore on, the school's African-American student body became more vocal in advocating for its needs for additional institutional support in a predominately white institution, and Wesley wanted to help make a difference. The school's administration suggested the students work to develop tools that would help facilitate meaningful discussion and incorporate African-Americans as well as other minorities, and forming an ABSW chapter was identified as an option.
"I think a lot of people became frustrated because you can talk about the issues, but there is not a concrete way to resolve them," she said. "I think it creates a divide when another student faces a hardship just because of how they look. I didn't want to leave here with a bad taste in my mouth, and I didn't want other students to leave with a bad taste in their mouths. I want to be proud to tell my children and the students after us that it is okay to go here and that they'll work for you. That it's a safe place."
The ABSW chapter's founding class had 18 members including five people in Baton Rouge. After the Class of 2015 graduates, there will be five remaining members although the group is actively recruiting new members.

TSSW Assistant Professor Dr. Reginald Parquet is the group's advisor, and he credited Wesley's hard work along with all of its members for the historic ABSW Charter Ceremony on Sept. 1. There is also another historical connection to Tulane as the late Dr. Morris F.X. Jeff, Jr. was the first African-American recipient of a doctorate degree at the Tulane School of Social Work. Dr. Jeff also was the fifth national ABSW president from 1986 to 1990.
"I look forward to our students engaging in projects and activities that will enhance their learning and will be beneficial to the African-American community in New Orleans," Parquet said. "Our community faces so many challenges, and this group will help us attend to that." New Orleans also will host the 48th annual ABSW meeting in March 2016. Parquet said the student chapter "looks forward to welcoming the conference here, and there'll probably be some very specific community projects that will be started as part of the meeting."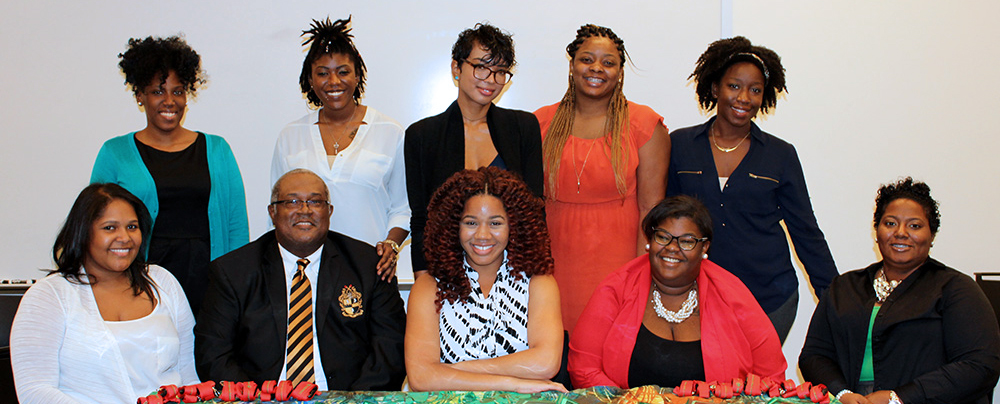 As for Wesley and her classmates, she said the group's founding was important for the school and future cohorts.
"I feel like it was important to do something," she said. "I don't know if it was just being tired and frustrated, but it was important for everyone. I wanted to leave something significant to use, but I couldn't do this without the help of others. It wasn't just me. It was everyone who pushed the idea."