You are here
Congratulations Fall 2020 Mental Health, Addiction, and the Family Certificate Recipients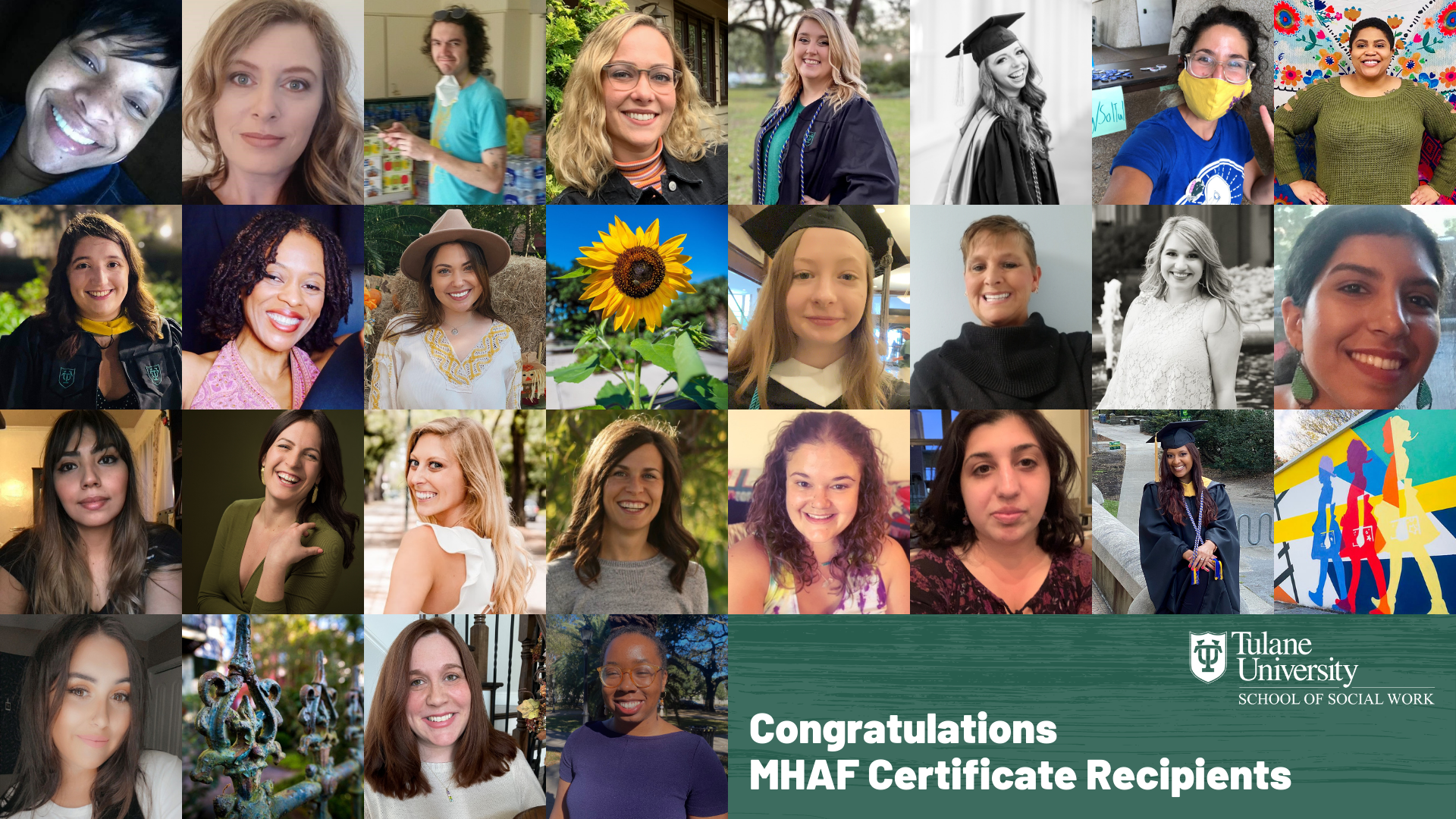 Social work is a broad field. Even as individuals specialize in a population or environment, they know that relationships are critical to healing. Students in the Tulane University School of Social Work Master of Social Work can develop that understanding through the Mental Health Addiction and the Family (MHAF) certificate. We are elated to announce that 33 Fall 2020 MSW graduates will also receive the MHAF certificate.
The certificate centers on the idea that social work is a combination of art and science. "By cultivating creativity and courage, the components of the MHAF certificate provide an opportunity for students to explore their clinical voice," said Parker Sternbergh Robinson, Director of the Porter-Cason Institute, which administers the certificate. "We are so pleased to have so many future social workers developing their own unique art within ethical and evidence-based interventions." 
Students engage with the program through a rigorous combination of coursework, certificate-related field placements, and Journal Club/Community meetings. They may take courses in family trauma, clinical intervention with children and adolescents, contemporary practice with couples and families, addiction, substance abuse, and behavior pharmacology. As a signature of the program, the Journal Club/Community Meetings component is designed to give the student opportunities to network and discuss certificate-related topics.
Congratulations to the following 33 Fall 2020 MSW graduates who completed the Mental Health, Addiction, and Family certificate as part of their studies:
Tanya Brown
Emma Chauvin
Lisa Colella
Anthony Critelli-O'Donnell
Mallory Cybulski
Claire Dailey
Erin DeVita
Christina Dolese
Julia Freudenberger
Anna Fuchs
Kayla Garnigan
Katie Heiman
Lacynthia Hurst
Stacey Huth
Jane Kalm
Charisse Konkol
Brianna Kora
Meagan McDonough
Shalina Mishra
Jocelyn Nunez
Alexandra Oldani
Ariana O'Shea
Emily Pavel
Lawrence Perry
Kathryn Postel
Catherine Potter
Anastasia Sabga
Hiromi Silva-Soraghan
Lauren Sisk
Sinjin Sison
Ryan Sparks
Heather Weemes
Monique Zellars
Photo mosaic by: cmoulder @ Mosaically