You are here
Health, Wellness, and Hypermasculinity: How Research Prompted Action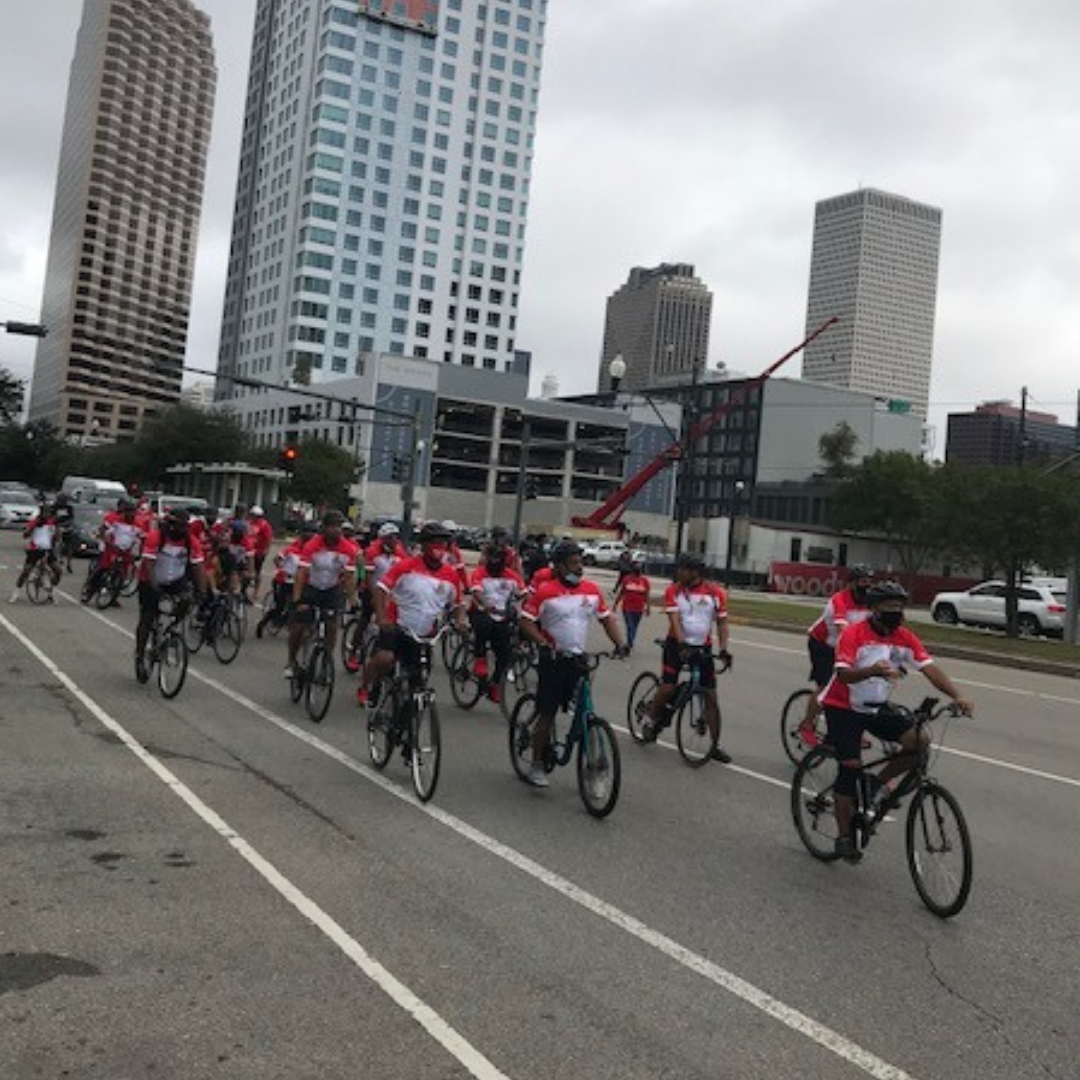 Health is important to everyone, and the way each person looks after it is unique to them. What holds people back from wellbeing, however, is often unseen. Revealing it takes inquiry, reflection, and a little push from the outside. When a Tulane University psychology undergraduate began to ask if hypermasculinity is risking the health of Black men, neither she nor her study's participants could have predicted the positive long-term effects of the question.
Prior to graduating with a Bachelor of Science in Psychology and Health and Wellness from Tulane in May of 2020, Lela Hill participated in the Louis Stokes Louisiana Alliance for Minority Participation (LS-LAMP) for two years with Eric Roque, Senior Program Coordinator. After an introduction by Associate Provost for Graduate Studies and Research, Dr. Mike Cunningham, she connected with Dr. Maurya W. Glaude, Professor of Practice and Director of Field Education at the Tulane University School of Social Work, to engage in a specialized research project. "I wanted to witness the effect of hypermasculinity in the Black male community and how it relates to them actively seeking healthcare," said Hill. "Black males have one of the lowest life expectancies in the U.S., and the Black community is at a higher risk for developing comorbidities."
Hill envisioned a survey that collected demographic data, number of past-year healthcare visits, and frequency of health discussions with doctors, relatives, children, or significant others. Accountability questions gauged how likely participants were to encourage another male to visit the doctor and if they were ever encouraged by another male. 
A key component of the survey was related to machismo and hyper self-assurance to measure risky hypermasculine attitudes and a perceived level of medicinal knowledge. "Questions based on these constructs were posed before and after an eight minute video intervention that addressed proper health practices and common misconceptions made by Black males," Hill said.
With Dr. Glaude as her advisor and mentor, Hill explored a new realm of research, created her own study and was able to evaluate the effectiveness of her program intervention.
Hill and Dr. Glaude are also active members of the same sorority, Alpha Kappa Alpha Sorority, Inc. ®, and they reached out for study participants through the National Panhellenic Council's "Divine Nine" collaborative, a network of historically Black Greek letter organizations. Dr. Glaude's spouse Tim, who volunteered for the study and is a member of Kappa Alpha Psi Fraternity, Inc. ®,  helped disseminate flyers about the survey. "I live with a social work practitioner-researcher, so I knew participating would provide valuable data regarding the health behaviors of Black males," he said.
When asked by Tim Glaude, Chris Newsome also participated in the survey. "I have learned over the years that when one of my friends asks me to do something that is not difficult I should just do it," said Newsome. "Also, it allowed me to give back to those that need help gathering information for research and education. My parents, both college professors who have PhDs, have always stressed to me the importance of research participation."
Glaude, Newsome, and 47 others took the survey, watched the video, and then answered a second set of questions after the video. This process started them thinking about their own health and well-being.
Their concepts of wellness had changed over time. For Tim Glaude, his younger ideal related more to physical stature in muscle tone and mass. "Now that I am in my forties, it is about eating well, staying physically active, to not only look good but feel good, maintaining a healthy mental state, since the mind and body are so connected," he said. 
For Newsome, the COVID-19 pandemic has increased awareness around his mental health. "Balancing work life, social life, as well as assisting my kids with virtual learning has been a real strain on me mentally," he said. "I am a social butterfly and love being around people. Going into a lockdown due to COVID made me find other ways to fill my time to maintain my wellness. I have begun to read more and spend more time playing and interacting with the kids."
According to the study results, those men with children were more likely to have another male encourage them to visit the doctor as a means for them to stay healthy for their children. Newsome said his family is definitely a motivator for him. "I am a father of two young boys, and it is important for me to stay as healthy as possible to ensure that I am around to see some of their biggest accomplishments in life," he said. 
Participation in the study motivated positive change in small and big ways. "For some of us, it was a shot in the arm," said Tim Glaude. "We had to recognize that we have to be more open and accountable for our health. I know one of the fraternity brothers commented after taking the survey that he was going to get a check-up soon because of the video."
The survey's results suggested that men who encourage other men to go to the doctor are more likely to talk to a doctor themselves. "This may be because they understand the benefits," Hill said. Moreover, men who talk to a relative or significant other about their health are more likely to talk to a doctor about it. "This could be explained by either persuasion from those family members or desire to stay alive for those people," Hill said.
Collective motivation has become prominent in these men's lives. While the results of the survey were enlightening, one element of research that is not always considered is the way it can prompt action. Of the 49 men who participated in the survey, a small group committed to furthering their wellness with weekly 20 to 30 mile bike rides.
When the pandemic first began, Newsome bought a bike to ride around the neighborhood with his sons. A fraternity brother joined, and soon others did as well. "The group began to expand mainly because we enjoyed the fellowship more than the riding," he said. "And, each time we would ride farther than the previous time."
Tim Glaude was one of those to join. "Riding together gave us two main objectives: health and exercise plus social interactions," Glaude said. "The social interaction part was crucial because we were dealing with COVID." 
On social media and with friends, the men started sharing the health benefits they were enjoying, like losing weight, feeling better, lowering stress levels, and setting and meeting fitness goals. Their fraternity members seemed eager to join and share in the experience. "After starting with about five or six, the group has now grown to include about 25 riders and is steadily growing on a weekly basis," said Newsome.
Calling themselves the NOLA Nupes as a tribute to their fraternal organization, the men value the opportunity to ride, become closer to one another, and look after their health. "The members in the group have become like family to me," Newsome said. "Our wives have had a chance to meet each other. We spend time together outside of riding bikes. As the youngest in the group, I'm enjoying learning a lot of life lessons from guys whom I look up to like my 'uncles.'"
The NOLA Nupes hope to continue in not only growing their members to about 50 but also ride farther and continue supporting their health and wellbeing. "The plan is to use the platform to promote social and mental health as well as forming a closer bond with one another," Newsome said. 
Tim Glaude added that he wants to continue what they have started and incorporate this new aspect of wellness into their lives long term. One way to do that would be make this a program within their fraternity. "We have chapters all over the country that are doing similar rides," he said. "Hopefully one-day, post COVID, we as a Fraternity will have a ride for a cause, such as voting or civil rights." 
They have already had the opportunity to use their riding to promote civic engagement. The group led a "Get Out the Vote" parade in October to encourage others to head to the polls for the 2020 elections. 
For Newsome and Glaude, their riding group is about motivating each other to stay fit both mentally and physically, which is an extension of the study Hill initiated. "It brings me joy that my study is continuing to make an impact in the lives of these Black men, as that was my intention," Hill said. "I wanted to spread information about proper health and wellness practices, and these men are becoming more conscious of not only their health but also the health of their fraternity brothers." 
Hill hopes this life adjustment will continue to improve, and they will share the knowledge they gained about health and masculinity in the Black community with their friends, family, and colleagues. "Their lifestyle change gave me the insight that Black men are willing to listen and improve their health practices, and with this knowledge being disseminated, they may also better the lives of others," Hill said.